Visit Bristol Street Versa at Naidex 2019
05/03/2019 09:07
Here at Bristol Street Versa, we're really excited to visit Naidex for the first time this year on the 26th and 27th March 2019 at Birmingham's NEC and we'd love to see you there.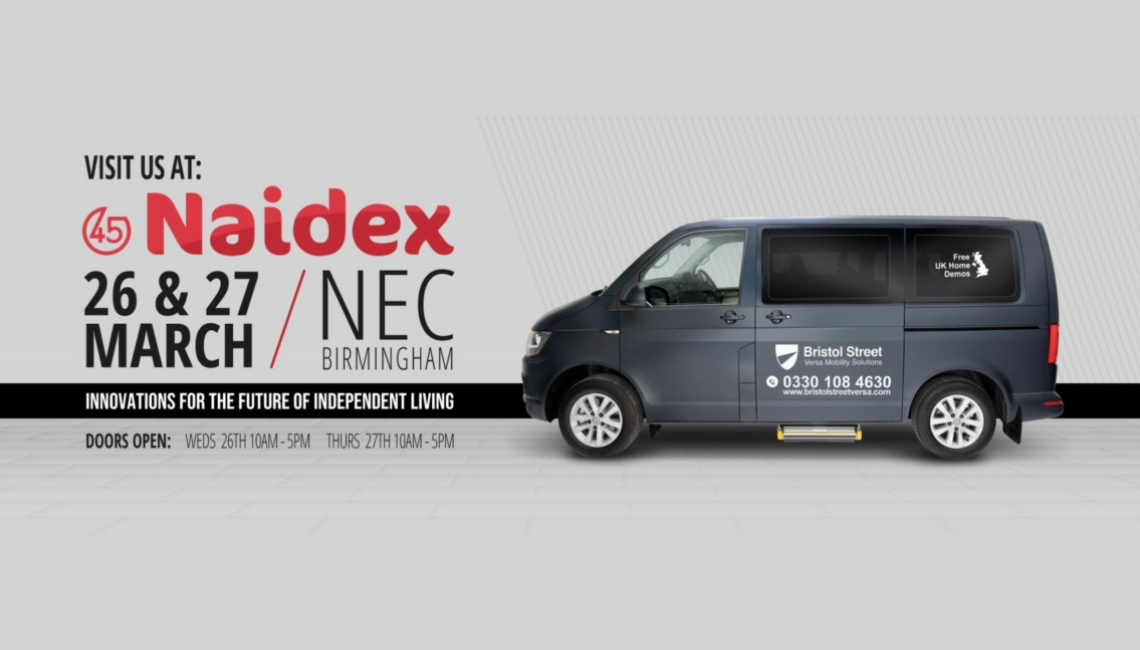 The event is dedicated to independent living and mobility. 15,000 visitors descend and transform the NEC arena into a thriving hub of technology, innovation and solutions for the disability community.
Find out more about our vehicles and what we do from our WAV Advisor, Simon Fletcher.
First of all, please introduce yourself, talk me through your role and what you do at Bristol Street Versa?
Simon: Hi, my name is Simon Fletcher, I am a WAV Advisor for Bristol Street Versa and have been in this role for 20 years. My role sees me travelling the length and breadth of the country to asses customers' needs and wants when choosing a new vehicle for themselves.
What are you most looking forward to at Naidex?
Simon: Naidex and many shows like it, introduce us to a wide variety of people and their needs. It is a place where we can learn a lot from people and also interact with other companies in similar industries.
What is unique about the Versa offering and the Versa team?
Simon: Versa offers not only a wealth of experience to every customer we deal with, but also an unsurpassed customer service. When people come to Versa, they stay with Versa. I have customers who have had upwards of 4 vehicles from me.
Which vehicle will you be taking?
Simon: The Volkswagen Transporter
What is it about the Versa Volkswagen Transporter conversion that makes it so unique?
Simon: The Volkswagen Transporter conversion is unique to every customer, and their needs and wants, as it can be customised in so many different ways. The wheelchair positions are flexible, and you can also have a seated passenger in a full-sized seat beside the wheelchair user.
What is your favourite WAV in the Versa range and why?
Simon: Coincidently, the Volkswagen Transporter. Due to the fact it can be built/customised so much. All of my customers and work colleagues would agree that I am most passionate about the Transporter. It also helps as I own one myself (15 years old) that I have converted into a camper van from an old wheelchair accessible vehicle.
What is the most rewarding thing about working with your Versa customers?
Simon: They are all so welcoming and grateful of everything we can do for them; some are not even aware of what can be done, until we speak to them. Seeing how happy you can make someone by basically opening up their lives and giving them their freedom and independence back again, is the biggest reward.
What do you like most about visiting shows and exhibitions?
Simon: The interactions with the different people and learning about their individual needs. All of this experience and knowledge can be taken away and used to our advantage when seeing our future customers.
If people can't make it to see you at Naidex this year, what other shows will you be attending?
Simon: We attend all of the Motability One Big Day events each year.
The Big Event at the NEC, Birmingham – 28 & 29 June 2019
One Big Day Exeter – Saturday 27 July 2019
One Big Day Harrogate – Saturday 10 August 2019
One Big Day Peterborough – Saturday 7 September 2019
One Big Day Edinburgh – Saturday 21 September 2019


What do you see as being the future for Wheelchair Accessible Vehicles?
Simon: I believe they will all (eventually) become fully electric. That is something I feel will benefit everyone. Many of our customers do very little mileage and short journeys, so this would save each person money and will help Motability become a beacon for other companies to follow. Also, with each passing year wheelchair securings are getting more user friendly. As technology moves on, it will soon be as easy as driving your car away to secure a wheelchair. Currently I could easily say I can see anyone, in any wheelchair and within 5 minutes, pull up, take the wheelchair in, secure it and then pull away. 10 years ago, this would have taken at least double the time. Lifts are so easy to use and require very little effort. Ramps are all strut assisted, so hold very little weight in comparison. I can see such improvements continuing, and it's something the Versa team are very passionate about; making our conversions as effective and user friendly as possible.
Visit Bristol Street Versa at Naidex – NEC Birmingham at stand N4172. Tickets are FREE, so register for yours, HERE
Bristol Street Versa are committed to #KeepingYouGoing with our range of high-quality Wheelchair Accessible Vehicles (WAVs) available both on the Motability scheme and for retail sale. We provide nationwide demos, delivery and service – so wherever you are you can enjoy the comfort and high quality of the Bristol Street Versa conversion.
If you require a rear-entry or side-entry WAV, and don't know where to start, our team of friendly and specialist advisors are on hand to help guide you through the process.
Call us today or email [email protected]