Join Bristol Street Versa at Motability's The Big Event
03/07/2018 13:51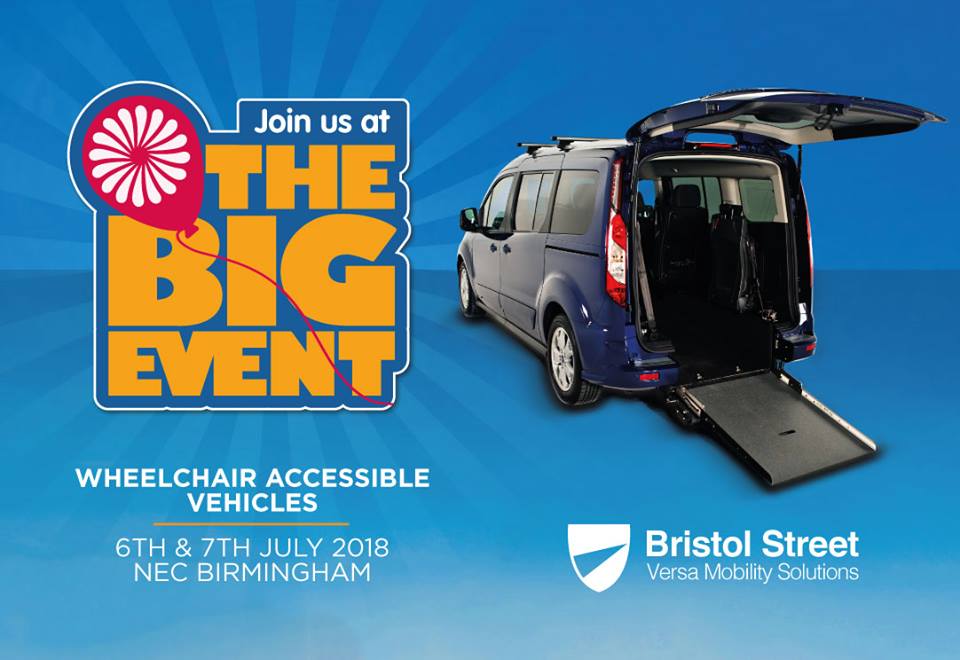 Join Bristol Street Versa at Motability's The Big Event at NEC Birmingham this week on Friday 6th and Saturday 7th of July.
Wheelchair Accessible Vehicle specialists Bristol Street Versa are taking part in the nation's biggest Motability event at the NEC Birmingham.
On this Friday and Saturday you'll be able to meet and speak with our expert advisors on all things Versa and learn more about our high-quality WAV (Wheelchair Accessible Vehicle) conversions.
Whether you are looking to renew your Motability lease with a medium to large WAV, or because your needs have simply changed, we will be on hand to provide expert and professional advice.
We're experienced in converting, providing, and servicing a range of WAVs in the medium to large category, with offerings from Ford, Volkswagen and Renault. We keep the customer at the heart of all that we do, and our dedicated team are always on hand to ensure we are keeping you going, and that your vehicle is always running smoothly.
Your peace of mind is our priority.
We may be visiting an event in the Midlands, but the beauty of the Bristol Street Versa offering is that our mobility experts offer demonstrations and fantastic customer service nationwide.
At the show, you can book a home demonstration for any of the WAVs in our range. We would be delighted to bring a vehicle to you and demonstrate the features on a no-obligation basis. It's important for our service to be as accessible as is necessary and ensure that ultimately the vehicle you choose absolutely suits your specific needs and requirements.
Along with us, well be taking two of our most popular vehicles to the show; the VW Transporter and the VW Caddy. They'll be available for you to view and experience demonstrations on-site. Our team of experienced advisors will also be on hand to answer any questions you may have.
The fantastic news is that the event (and event parking) is completely free, free refreshments are also available, with plenty of distractions for any younger family members!
Find out more HERE