A Conversation with John Harris
22/07/2015 14:47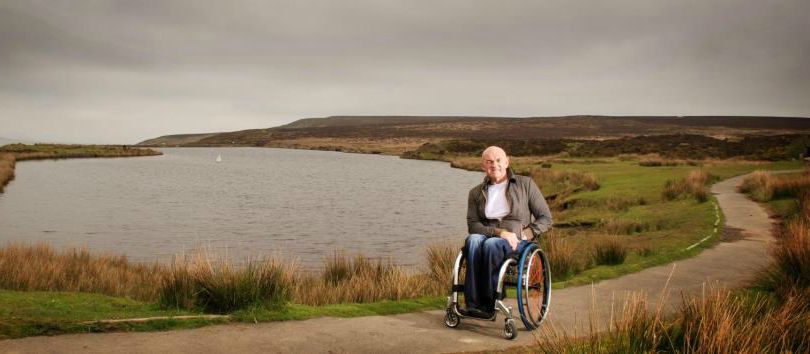 Paralympian, fundraiser, and mountaineer; its safe to say that John Harris has led a pretty eventful life. With this in mind, Bristol Street Versa got in touch with John to talk about gold medals, raising awareness of disabled people in sport, and what he thinks of todays up and coming athletes. Take a look at our conversation with the pioneer of disability sport below.
"I was born in a little village in south Wales called Pantygasseg. There were about 50 houses, 1 school, 1 pub, 2 shops and about 3 buses a day really small but it was a fantastic place to grow up. Even as a kid sport was a massive thing for me.
When I was growing up, I played anything and everything boxing, gymnastics, rugby, football – I was just like most boys.
By the time I was 15, I left school and went to work in a steelworks as a crane driver. I had a great time there! When I think about how tough kids have it today, I realise how much of a dawdle it was. My mother didnt have to worry about any of the problems parents do today.
Then when I was 18, I was at holiday in Butlins. I was on a big wheel with a mate of mine, and I decided to try and scare him. So I started shaking it. I wasnt being sensible.
All of a sudden, the safety bars came out of my hands and out I went. I fell about 40ft from the very top, and landed on my back with one arm behind me on a brick wall. It was a hell of an impact. My back was shattered, my arm was broken, and all my veins had collapsed. I thought I was going to die.
I was flown to Stoke Mandeville Hospital, where I spent the next 6 months of my life. The hospital informed my mother Id been in an accident by letter. She came all the way to see me and the first thing she asked the staff there was will my son live. She was told we dont know.
During those 6 months I felt absolutely dire most times. If someone would have offered me a tablet to end it all, Id have taken it. I was either in bed or a wheelchair. When youre in a state like that, you come to think about a number of things mortality for one. But two main things dawned on me. One, I thought I was no longer a threat. And two, I thought no woman would ever find me attractive again. Id always been able to hold my own, but now I was just some bloke in a wheelchair.
When youre rehabilitated, they send you on your way just like that. After I was released, I just turned into a drunk. Drinking was all I did for a few years. I didnt exercise at all. At Stoke Mandeville, we did things like archery and table tennis, but this was more as rehab, and they werent really for me. At the time, I thought these were the only sports you could do if you were disabled; I didnt have a clue.
I only got back into sport after a mate of mine invited me to a local gym. I had to pluck up a lot of courage, but eventually I went. I went for a few weeks and started to get into weightlifting. A guy at the gym, Bryan Taylor, and hed come up to me while I was lifting and say youre doing that exercise wrong. He invited me to train with him and a bunch of other bodybuilders, and show me the proper techniques. My life changed after that. I stopped smoking and drinking my days away, and got fit.
Shortly after, I was asked to join a paraplegic sports club down in Cardiff, which is where I first got into discus. I started training, and eventually got to compete in the Stoke Mandeville national games in about 1973. I came 2nd or 3rd I cant remember which but someone must have taken notice of me, because I was invited to start training with the G.B squad. I started training with them, but it took until 1978 for me to be selected to compete. I went to the Super Challenge in Canada, and ended up coming 49th out of a total of 50. I thought I was a nobody.
Despite myself, somebody must have seen something in me, because when the 1980 Paralympic games came I round I was selected to compete. I came 6th in discus, but ended up breaking the British record at the time. But a mate of mine ended up winning silver medal in Javelin this just made me determined to get a medal!
I spend the next 4 years training with that medal in mind. I trained and trained and trained, and then in the 1984 Paralympics, I won my first medal gold. Without a shadow of a doubt, I wouldnt be here talking to you if I hadnt won that gold medal.
Winning gold just spurred me on, and in 1988 in Seoul I ended up winning a silver in Discus, and a bronze in the Pentathlon. I competed for another 8 years, but in 1992 and 1996 I didnt win any medals. I think I was probably past my peak a little by then, but sport was so important to me I couldnt give it up.
My career hasnt just been about competition though. In 2013 I climbed Kilimanjaro that was intense. And in 1987, me and my mate Chris Hallam wheeled around Wales to raise money to build a sports centre for the disabled. We did 400 miles in 11 days. Then in 1997, we did a further push of 600 miles in 3 days 18 miles a day, every day. In my opinion, Chris had to be one of the greatest theres been. For me he was a true pioneer of disabled sport he held every record from 200m right through to the marathons.
I guess that people like myself and Chris paved the way for todays athletes. When we first started out, we couldnt have been more dedicated. I always say there cant have been an able bodied athlete around that wanted it more than me. I dont think that todays athletes are any better than my generation; the main difference is the equipment. When I started out, you had to throw or race from your standard day to day wheelchair. Compared to todays chairs, the weight difference is phenomenal. I think if some of the top boys from back in the day were competing with todays equipment, theyd have been unreal.
The publics perception of disability sport has definitely changed since I was in competition. The funding for disabled athletes has changed too. Today they can get lottery funding and sponsorship, which is the way it should be. When I was competing, I had to work full time to afford to be an athlete. The most money I ever got from competing was £250 for coming 3rd place in the Great North Run.
Compared to when I started, the kudos and credibility that disabled sport has is incredible. But I dont think disabled sportspeople will ever be in the same position as non-disabled athletes. Disabled people just dont get the same amount of competition; they dont have the same kind of bread and butter year round competitions to take part in. The media exposure isnt the same either, some countries just arent that bothered. Take the USA for example; even for big competitions, theres far less coverage UK.
I guess that everything ive done the jobs Ive had, the people Ive met, even my fitness today has been as a result of that gold medal. If I hadnt have won that, my life would have gone down a completely different route. At 70 I still go to the gym 3 times a week, sometimes with my 22 year old son. The other week we did 1000 reps! Hes just as sports mad as me hes done a sports degree and hes going to go back and do a masters. The Olympic gold medal was my dream really it took me 11 years of training and competing to get it, but it was worth every second. The Olympic gold medal is the most important sporting moment of my life