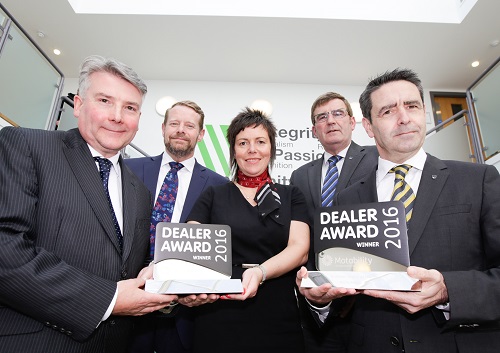 Vertu Motors plc, the UK's fifth largest motor retailer, is celebrating a clutch of award wins from Motability, the Scheme which supports the independence of people with disabilities.
The North East-based motor retailer, which operates more than 120 dealerships across the UK, received both the Best Website of the Year and National Dealer Group of the Year awards as part of the Motability Scheme Dealer Awards.
Bristol Street Versa, which is owned and operated by Vertu Motors plc, is the dealership within the Group specialising in the supply of wheelchair accessible vehicles on the Motability Scheme.
The series of awards is intended to recognise best practice and ensure customers receive exemplary customer service from partners of the Scheme. The awards are judged on how a dealer delivers the Scheme to customers and is assessed by customer feedback and reviews of their Motability Scheme performance.
Robert Forrester, Chief Executive Officer of Vertu Motors plc, said: "Winning these awards means a lot to all of us at Vertu Motors. Motability is an important and growing part of the business.
We have won these awards on the back of customer experience, which comes down to the delivery of the five unteachables we emphasise within the business of character, attitude, energy, drive and talent. These are full-square in the middle of delivering that great customer experience. We need people who our customers can trust, go the extra mile for customers and have a positive attitude in what can be a stressful situation to make sure everyone has an enjoyable experience."
Peter Wilson, General Manager Dealer Relations for the Motability Scheme, congratulated Vertu Motors on its multiple award wins saying: "These awards are the result of sustained excellent customer service provided to our mutual customers. Vertu Motors has listened to what Motability customers want and need to adapt their approach to suit them. It is this level of care which has secured numerous awards for Vertu Motors and its dealerships."
Anyone who receives the Higher Rate Mobility Component of the Disability Living Allowance, the Enhanced Rate of the Mobility Component of Personal Independence Payment, War Pensioners' Mobility Supplement or Armed Forces Independence Payment can exchange their weekly payment to lease a new car or wheelchair accessible vehicle through the Motability Scheme. Insurance, servicing, RAC breakdown assistance and replacement tyres are all included in the cost of the lease.